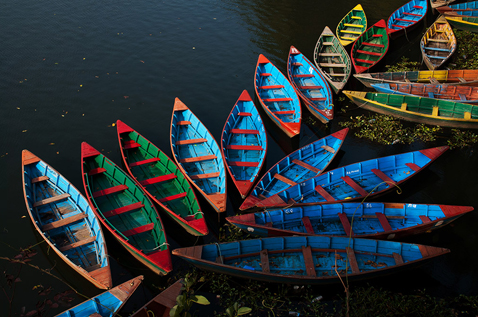 Pokhara is the most famous tourist destination in Nepal after Kathmandu. The defining feature of this city is Lake Fewa and the view of Mount Fishtail (Mt. Machhapuchre).
Pokhara is also an adventure seekers paradise, with many treks in the Annapurna region starting and ending in Pokhara and adventure sports like Paragliding and ultra-light aircraft taking off from a surrounding hill, Sarangkot.
Sarangkot is a surrounding hill in Pokhara, which arguably offers one the best views, particularly at sunsrise, of the Himalayas (especially Mt. Fishtail and Mt. Annapurna). An early morning walk of approximately 1 hour to Sarangkot for viewing the sunrise and the city below is one of the popular activities in Pokhara.
Some of the other highlights of Pokhara are:
Brindabasini Temple was built by the kings of Kaski before the unification of Nepal. This temple is located in the old part of the city and is a famous temple in Pokhara. This temple is devoted to Goddess Durga. During Dashain, the main festival which takes place during October, animals are sacrificed in this temple. After a visit to the temple one can leisurely walk around the old market.
Fewa Lake is the second largest lake in Nepal. This lake offers a serene environment for visitors interested in boating. No motorized boats are allowed on Fewa Lake. One can rent simple wooden colorful boats and gently cruise the premises of the lake. On a clear day you can see a perfect image of the Annapurna Range on the lake.