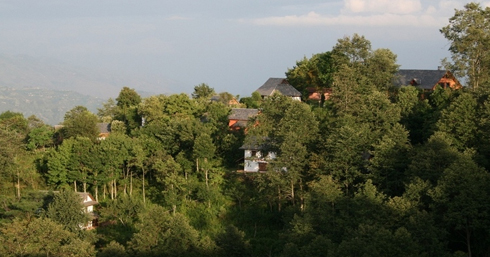 Namo Buddha Resort is situated 30 km south-east of Kathmandu, traveling in a straight line. Traveling by car from Kathmandu takes approximately 2 hours. We offer experience of the simple life in the Nepali countryside. We invite you to spend some time close to nature and be near farmland.
Our small and cozy houses are beautifully built by people from Kirtipur, after a traditional Nepali style. We have 6 small houses, 4 medium houses and 2 large houses. This gives us room for a total of approximately 30 guests. All houses have electric heaters, wireless internet, lots of windows and beautiful woodwork.
The resort is surrounded by an organic farm. Our organic farmers on staff try to follow the best practices to care for the earth and build a farm that will last for generations. We grow vegetables, grains, flowers and many fruits. We collect milk from our cows and honey from our bees. We also make our own jams.
At the moment we grow much of our own food and also purchase food from the local market. Vegetarian food is one of our major focuses at Namo Buddha Resort. Our wood-fired oven gives us the opportunity to make our own sour dough breads, pizza and other bakery items. The surrounding neighborhood features Namo Buddha Stupa only a few minutes' walk away.