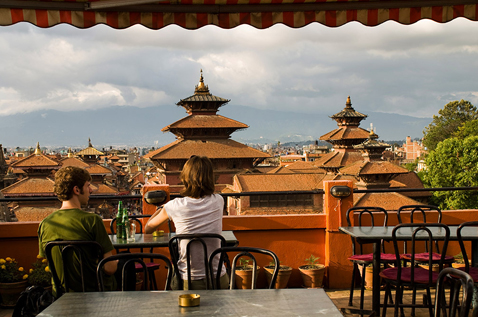 Kathmandu is the largest city and capital of Nepal and home to around 4 million (estimate) people. The Kathmandu Valley has been declared a Cultural World Heritage Site for seven monuments within the valley. The seven monuments are: the Kathmandu Durbar Square, The Bhatkapur & Patan Durbar Squares, Swayambhunath Stupa, Bouddhanath Stupa, Pashupatinath Temple, and Changu Narayan.
The Kathmandu valley consists of 3 different cities: Kathmandu, Patan, and Bhaktapur. Situated in a large valley, it is a bustling city bursting at the seams with people, houses, cars, shops, temples of all sizes and people. It is also the starting and ending point for most tourists and visitors to the country.
Kathmandu's ancient and medieval architectural marvels in "the 3 kingdoms" (Kathmandu, Bhaktapur and Patan) are hidden gems among the urban chaos. The Patan Durbar Square, Kathmandu Durbar Square, and the Bhaktapur Durbar Square are places one shouldn't miss while in Nepal. Buddhist Stupas and Hindu temples dot the city almost anywhere you go in Kathmandu.
Kathmandu also has most of the luxury hotels, restaurants, and bars in the country. All across Kathmandu, especially inside the premises of luxury hotels and some up-scale and tourist areas, are excellent restaurants and bars that can serve anything from martinis to special Nepal cocktails with names that are often borrowed from mountain peaks, like the Everest cooler, or the Annapurna Special.